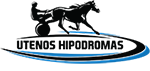 Racecourse in Utena, meeting the highest international standards, is the only not only in Lithuania, but also in all the Baltic states. There is a platform for more than 600 spectators equipped, as well as training path, photo finish system. Utena racecourse meets the requirements of both sport fans who wish to watch horseracing and professionals participating in them. The halls for conferences, exhibitions and other events, as well as the premises for judges and press representatives are equipped in a newly built Organizing Centre of Competitions.
Service offered by the centre of organizing events:
Rent of the hall with an image projector for conferences, seminars, presentations of products or services, tasting, business meetings.
Organizing and servicing coffee breaks, business dinner, festive dinner. Menus are made according to your wishes.
Every day a café is open to the inhabitants and guests of the town.
Please contact us at telephone +370 659 99 653 regarding service provided by the café.
Please contact us at telephone (8 5) 264 1239, email office@cassandra.lt regarding rent of the conference hall for various events.
Utena racecourse is located in Utena, Uzpaliu St. 97.